Learn everything you need to know to quickly enter the exciting food and beverage service industry.
Cost: $299 (includes materials)
Hours: 35
Number of Students: 15 max
Prerequisites: None!
Schedule: Weekday or Weekend formats available
35-hour Certificate Bartending Course
Course Overview
This comprehensive course boasts intensive hands-on training by seasoned beverage service professionals in our state-of-the-art facility. Everything that you do at SFSOB gets you closer to being ready, physically and mentally, to achieve your goal of bartending professionally.
Our nationally acclaimed beverage service training program systematically builds a foundation until you graduate with the skills and confidence of fully competent bartender.
This course includes unlimited mini-shifts at a real night club with real people and real alcohol. No other bartending school in America offers this amazing opportunity to its students..
Schedule Options
Weekdays: (M-F) in one or two-week formats. Morning, Afternoon or Evening Classes
Weekends: Five consecutive Saturdays or Sundays 10am-5pm.
| | |
| --- | --- |
| 2 Weeks (Mornings) | Mon-Fri: 9:30-1pm |
| 2 Weeks (Afternoons) | Mon-Fri: 1:30-5pm |
| 2 Weeks (Evenings) | Mon-Fri: 6-9:30pm |
| 1 Week Immersion (AM) | Mon-Fri: 9:30-5pm |
| 1 Week Immersion (PM) | Mon-Fri: 1:30-9:30pm |
| Weekend Format | 5 Saturdays or Sundays 10-5pm |
Who is this class for?
This class is designed for individuals interested in breaking into the food and beverage industry at the level of "bartender". No prior industry experience is necessary as we will take you from scratch to a level commensurate with a bartender that has one year of work experience.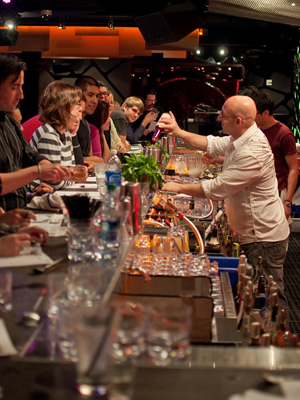 Skills You'll Learn:
Bar equipment and proper tool usage
Bar set up and breakdown
Customer service and bar etiquette
Liquor and liqueurs… taste and origin
150 cocktail recipes
Proper measuring/Free pouring
Blended drinks
Proper garnish preparation and presentation
Correct money handling
Wine and Beer service
Kegerator /CO2 /Soda syrup management
Liquor regulation and legal implications
Catering/Private parties-How to prepare
Bartender's duties and responsibilities
Resume writing and finding employment
What's Included?
150 page bartender training manual
A nationally recognized certificate of course completion
Resume writing assistance
Continuous job placement assistance
Free, unlimited refresher classes
The opportunity to work behind a real bar as part of your training
Unlimited free flair classes
Course approved and supervised by The Bartending College. America's most widely recognized bartending training program.